"Welcome to Planet Earth. There is nothing that you cannot be, or do, or have. You are a magnificent creator." – Abraham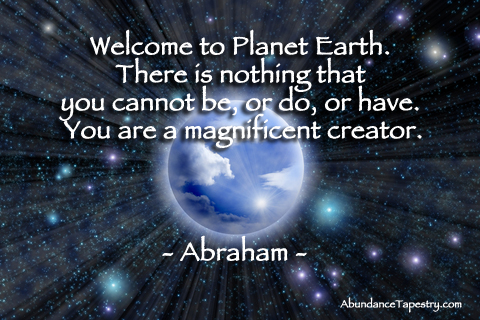 2. "The Hows are the domain of the universe. It always knows the quickest, fastest, most harmonious way between you and your dream." – From The Secret Movie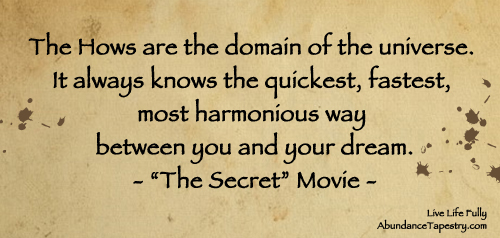 3. "You want to become aware of your thoughts, you want to choose your thoughts carefully and you want to have fun with this, because you are the masterpiece of your own life." – Joe Vitale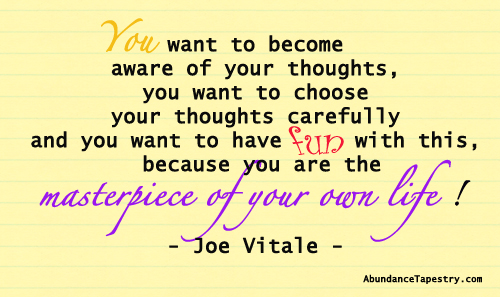 4. "I turn my dreams into reality." – Abundance Tapestry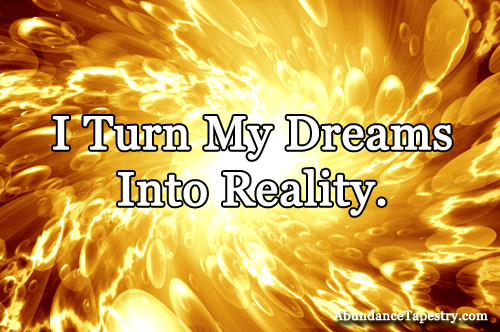 5. "Richness is not about what you have. It is about who you are." – Bob Proctor
6. "Our subconscious minds have no sense of humor, play no jokes and cannot tell the difference between reality and an imagined thought or image. What we continually think about eventually will manifest in our lives." – Robert Collier
7. "You are a creator; you create with your every thought. You often create by default, for you are getting what you are giving your attention to wanted or unwanted but you know by how it feels if what you are getting (creating) is what you are wanting or if it is not what you are wanting. (Where is your attention focused?)" – Abraham Hicks
8. "When you offer a vibration, the Universal forces are working in concert with each other in order to satisfy you. You really are the center of the Universe." – Abraham
Related article: Law of Attraction: Aligning with Vibrations
9. Follow your bliss and the Universe will open doors where there were walls." – Joseph Campbell
10. Let a person radically alter his thoughts, and he will be astonished at the rapid transformation it will effect in the material conditions of his life. – Napoleon Hill
Related Article: How to Unleash the Power of Your Subconscious Mind
11. Whatever we plant in our subconscious mind and nourish with repetition and emotion will one day become a reality. – Earl Nightingale
Related Article: How to Unleash the Power of Your Subconscious Mind
12. "Be thankful for what you have, you'll end up having more. If you concentrate on what you don't have, you will never ever have enough." – Oprah Winfrey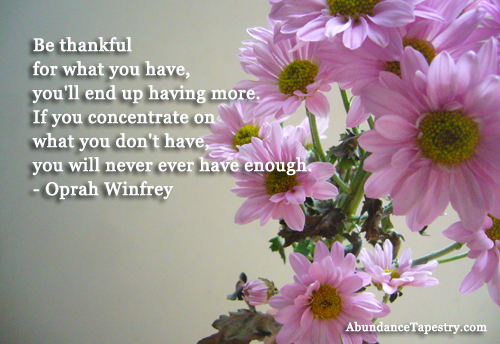 13. "There is no right or wrong way to tell your improved story. It can be about your past, present, or future experiences. The only criterion that is important is that you be conscious of your intent to tell a better-feeling, improved version of your story. Telling many good-feeling short stories throughout your day will change your point of attraction. Just remember that the story you tell is the basis of your life. So tell it the way you want it to be." – Abraham
Related Article: Law of Attraction: How to tell a Better-feeling Story
14. "You are joy, looking for a way to express. It's not just that your purpose is joy, it is that you are joy. You are love and joy and freedom and clarity expressing. Energy—frolicking and eager—that's who you are." – Abraham
Related Article: Law of Attraction: Activate with Joy.
15. "Action that is inspired from aligned thought is joyful action. Action that is inspired from aligned thought is joyful action. Action that is offered from a place of contradicted thought is hard work that is not satisfying and does not yield good results. When you really feel like jumping into action, that is a clear sign that your vibration is pure and you are not offering contradicting thoughts to your own desire. When you are having a hard time making yourself do something, or when the action you offer does not produce the results you are seeking, it is always because you are offering thoughts in opposition to your desire." – Abraham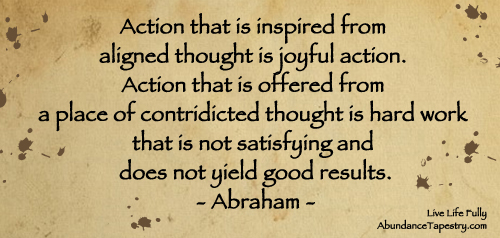 16. "If you're thinking of debt, that's what you're going to attract." – Bob Proctor
17. When you offer a vibration, the Universal forces are working in concert with each other in order to satisfy you. You really are the center of the Universe. – Abraham
Related Article: Law of Attraction: Aligning with Vibration
18. What you focus on with your thought and feeling is what you attract into your experience. – The Secret Movie
19. "You have sole ownership of your vision. And the Universe will give you what you want within your vision. What happens with most people is that they muddy their vision with 'reality'. Their vision becomes full of not only what they want but what everybody else thinks about what they want, too. Your work is to clarify and purify your vision so that the vibration that you are offering can then be answered." – Abraham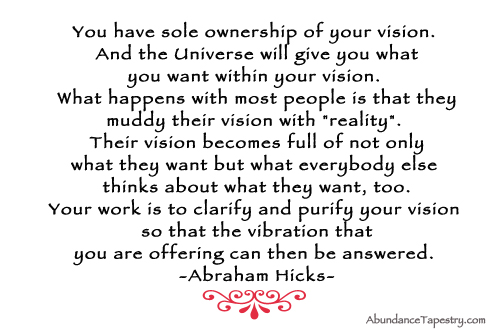 20. "Whatever your mind can conceive and believe, it can achieve." – Napolean Hill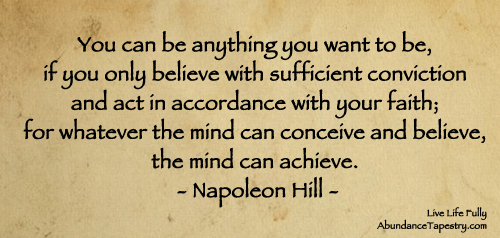 21. "Life is one big road with lots of signs. So when you riding through the ruts, don't complicate your mind. Flee from hate, mischief and jealousy. Don't bury your thoughts, put your vision to reality. Wake Up and Live!" – Bob Marley
Images and quotes are available on Facebook Page: Abundance Tapestry and Pinterest: Abundance Tapestry for sharing, in case you have missed them!
Enjoy!
Abundance always,



Author. Adventurer. Life Coach. More About Me.
Share Your Stories
I began learning more about quantum physics, energy healing and visioning ever since watching "The Secret" movie (which introduced me to the Law of Attraction). My life has changed ever since. Grab a copy of my book, Abundance Alchemy: Journey of Gold for tips on creating a life of abundance.
Theme for Next Month: Creativity. Do keep a lookout for articles, quotes and sayings on Creativity!