How to Mend a Broken Heart Holistically
"When love is lost, do not bow your head in sadness; instead keep your head up high and gaze into heaven for that is where your broken heart has been sent to heal." ~ anonymous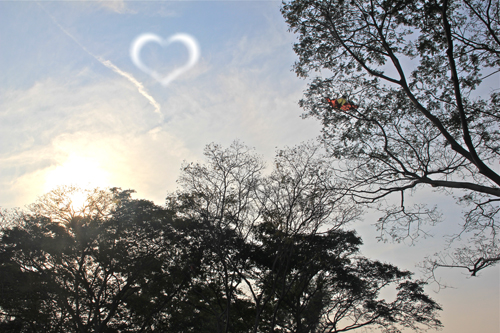 Your heart is broken from a relationship that is finally over. And so, it feels as if your entire world is crushed. You cannot bear the thought of not having that special someone in your life. Never mind even if you have just been betrayed, taken advantage of, left to the sharks and so on from your ex. You just dislike the idea of having to spend special occasions such as Valentine's, New Year's or Christmas Day alone.

You already know what it means to have a broken heart. Based on some fictional stories that you have read in a book or watched in a movie, loneliness is an experience that can kill. Your hero or heroine usually dies after going through intense suffering from being alone. The last you remembered, you cried buckets. Now that the drama is actually happening to you, you feel as if your heart is going into a million pieces.
Then again, it is not as if your heart is really broken. A "heartbreak" is but a common metaphor to describe the intense pain that you are in after losing someone dear and close to you. The situation of loss may occur in a breakdown in your relationship, romantic rejection, divorce or even death. Your pain comes from grief over the separation or bereavement. Even when physical death has not actually happened, it can feel as if it is truly the case with a break up.
This article is written for those who have just gone through a split. I won't proclaim myself as any kind of relationship expert but most certainly, I have had my fair share of weathering through breakups when I was younger. I have also had the experience of helping some of my girlfriends through their turbulent periods in their life without a man. In the recent years, I have been receiving a number of questions regarding what to do about a broken heart.
I will not advise you to waste time stalking your ex. In all likelihood, it won't bring your ex back but may even turn him or her off completely should you get discovered. If you wish to mend your heart, there are better things you can do. Here are 10 mind-body-spirit ways….
1. Learn From Past Experiences
It takes two to clap. So if the relationship has not worked out as expected, it can be that you need to bear some responsibility. You need to ask yourself what your lessons are.
Hence, find out the reason for your contribution to the breakdown. Was it communication, your lack of understanding or your bad habits that drove him or her nuts? Make a note of these and resolve to work on the issues that have held you back from becoming a better partner. When the right one comes along, you may not want to repeat the same behavior.
2. Practice Forgiveness
Forgiveness may not be truly necessarily since your relationship is already over. However, if you don't practice forgiveness, you can carry the hurt for years to come. You may not need to make your ex a friend or to be able to do practice forgiveness immediately after a bitter breakup, but consider allowing yourself the chance to open your heart to forgiveness in time. Famous writer, William Arthur Ward, once said, "Forgiveness is a funny thing. It warms the heart and cools the sting."
With forgiveness, you are letting the past go. You choose to no longer hold on to your anger. You become accepting of what-is. You are present in the now. Forgiveness heals your heart. You not only forgive your ex but you also forgive yourself. You allow space for new love to enter.
3. Focus on Personal Growth
You may feel somewhat lost as you are no longer hanging out in his or her apartment. You just do not know what to do with your excess time. Well, instead of moping around, pick yourself up. If you are having trouble dealing with your sadness, consider doing some emotional release work.
Additionally, make good use of your time by brushing up your knowledge and skills. There are so many books to read, audios to listen to and workshops that you can attend. Consider picking up some self-confidence skills, for instance.
4. Do a Cord Cutting Exercise
Perform a ritual for energetic release from your previous relationship. It is especially helpful when you find yourself unable to move on. It happens when you cannot stop yourself from thinking about your ex.
One exercise that you can do is cord cutting. Visualize yourself with your ex in front of you. Sense or feel any energetic cords that stretch between the two of you. When you are ready, imagine a pair of golden scissors and cut the cords. Seal all cord ends with love and forgiveness.
When it is completed, tell yourself that it is "done". This exercise removes co-dependent, dependent and karmic ties. It allows your relationship with each other to be free and healthy.
5. Exercise
There is nothing like exercise to beat misery. Exercising releases endorphins, and so they help you to elevate your mood. You also feel better about yourself and have greater confidence.
For exercise, go to the gym or take up some sport. Better yet, choose something that allows you to make new friends. Who knows? You may just meet someone from your gym or workout class.
6. Spruce Up Your Image
Sprucing up your image may just give your confidence a needed boost. Consider revamping your wardrobe. Browse through magazines and find out what type of clothes flatter you.
Alternatively, hire an image consultant. In the hands of an expert, you will learn how to project a style that is suited to your personality. Always have a ready smile to match your new image. A smile is the light from the heart of your soul.
Then again, if you have a problem with shyness, try this Extrovert Me program out. Learn some useful NLP secrets that will help activate unstoppable confidence and attract the success that you deserve.

7. Pick Up a New Hobby or Interest
Picking up a new hobby or interest is definitely a better alternative to moping around. There are many weekend classes that you can join. Check out your local papers or hobby magazines for these. Examples include scrapbooking, sewing, floral arrangement, yoga, wakeboarding, photography and so on.
Because you are doing something new, there is much to learn. It may turn out to be all-consuming. Your mind is happily distracted. The idea is also align with joy.
8. Travel
In the best-selling memoir "Eat Pray Love", Elizabeth Gilbert chronicled about her trip around the world after her difficult divorce. In the end, through her travels, she shared that she also discovered love. The book was later turned into a movie starring Julia Roberts.
You can consider taking up the tip on traveling. Traveling can help you out of feeling stuck. It broadens your perspective on life. You will find out that there is a whole world out there. While you may or may not find a new partner in the midst of your travels like Elizabeth Gilbert, there is the possibility of having an adventurous time with exploring new places.
9. Volunteer
Volunteering is a tip that I learned from a personal development workshop that I attended years ago. The idea from volunteering is that you would have automatically gained a bigger perspective of life when you have found a cause that is bigger than your individual issues. Once you find out that there are people in worse troubles out there, you will stop fretting about your lack.
In the recent years, in fact, I made some new friends who confessed to having started volunteering work at a time when they were experiencing relationship breakups. They wanted to look for something meaningful to do. Through volunteer work, they rediscovered love. It was love for the community that mended their hearts.
10. Get Support
Avoid spiraling downwards into depression over a broken relationship. If you have problems coping with your emotions, ask for support. Call up your friends. You can also call the local helpline if you cannot find anyone that you know to talk to.
Alternatively, engage professional assistance. Get help from a life coach, counselor or psychologist for deeper issues. I offer local consultancy services if you are hoping to work through your issues, adopt a more positive outlook and for additional support. Contact me here.
Give Yourself Time
Do not inflict yourself with more pain. Give yourself time to get over your broken heart, but avoid wallowing excessively in misery for far too long. You will not get to feel better if you keep playing sad songs over and over again.
Also, it can feel tempting to want to jump into another relationship right away. You may have the desire of filling the empty pockets of your heart quickly. Be warned, however.
You do not want to fall into the trap of repeated relationship patterns. These themes can include unfaithfulness, unwillingness to commit, betrayal, lying and so on. By not learning your lessons, you may find yourself in the same boat over and over again. So learn to look out for the signs.
It is possible to mend your broken heart. First, nourish yourself with healthy self-love. Next, determine the qualities that you are looking for in a partner and then use visioning to attract the relationship that you desire. All the best!
Love and abundance always,


Author. Adventurer. Life Coach. More About Me.
Share Your Experiences
Have you ever been through a broken relationship? How was it like for you? What steps did you take to get over it?