How to Open Your Heart to Love
"Keep love in your heart. A life without it is like a sunless garden when the flowers are dead."
– Oscar Wilde
With the ability to cut off your feelings, you have found it hard to open your heart. You deal with life mostly from your head. There is a certain disconnection about you that others can sense. Others may even call you cold. You believe it to be mostly true for you do not recall shedding a tear even while watching the most tragic scene of a Korean movie drama.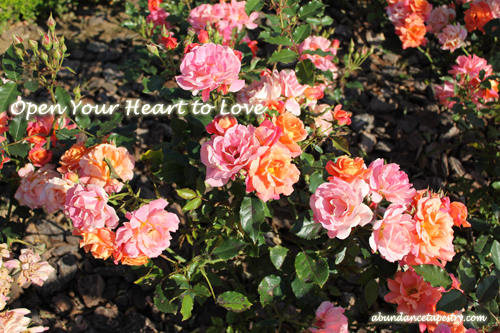 Very likely, your difficulty stems from past trauma. You have been hurt real bad previously. So your resourceful subconscious mind protects you with a shield around your heart. It is so thick that little love can penetrate through.

The shield might have served its purpose ever since you were a child. It has protected you through the years. Because you dislike feeling vulnerable, helpless and weak, your shield comes up at the slightest threat.
Yet, not to love is not to offer the self the opportunity to be nourished by it. You cannot claim to be living fully if you do not engage your heart. You would have sold yourself short. Buddha also pointed out that, "The way is not in the sky. The way is in the heart."
To live wholly is to be in touch with the joys and sorrows of life. It does not mean that you become an "emo" but it means being able to connect with many aspects of love such as compassion. Your ability to tap into your intuition also becomes hampered when you are not able to open your heart.
The following are ways that you can open a heart that is closed……
Do Things that You Love
Things that make you happy are things that put you in the flow experience of love. You are able to build the connection with your heart, where it is not possible to at other times. And so, your guard comes down. You allow yourself to feel.
Activities that make you happy give you great joy. Time goes by quickly. Such activities can include painting, flying a kite, dreaming, singing, dancing or scrapbooking. It is also a great idea to be doing work that you love, because you would be spending a great part of your day feeling wonderful.

Let Go of the Past
Tell yourself that whatever is past is past. You are only hurting yourself in the end if you bottle yourself up in anger, frustration and bitterness. It is hard to move forward in life, with a heart that is heavy.
To open your heart, practice forgiveness. Forgiveness is the spiritual ointment that heals your wounds. It releases you into the present, thus freeing you from the burdens of past. You are in the now, feeling liberated. Space has just been opened up for you to live life anew.
Be Open to Receiving
If you have been refusing to accept compliments, gifts and assistance, then make a change to being open to receiving. Perhaps you have been brought up to believe that you should never receive anything from another. Saying yes to receiving makes you feel uncomfortable, shameful or "not good enough". Or perhaps, the refusal to accept is part of your cultural habit. Whatever the reason is, your refusal to accept denies you the opportunity to open your heart.
You may not have realized the significance but compliments, gifts and assistance are all manifestations of love in its various forms. Everyone is deserving. No exceptions. When you say yes to these, you are also saying yes to life.
You may not have liked the idea about receiving previously because you have been afraid that you need to give as well. You do not like being indebted. However, this form of thinking is indicative of poverty consciousness. You are operating from lack. Abundance is meant to be shared, not hoarded. In fact, the more you receive and give, the more you have to give and receive. You end up with more!
Embrace Your Fears
The tip "embrace your fears" may seem like an absurd idea. After all, your heart is probably closed because you are fearful of opening it. More often than not, we prefer to bury our fears. We do not look forward to putting ourselves in pain.
However, embracing your fears simply means acknowledging them as they are, so that you can have the opportunity to release them. When you acknowledge our fears, you are allowing them in your presence. You recognize that you are human and that it is okay to have them. In self-acceptance, you allow love for yourself to enter. This process inevitably leads to healing.
Love and acceptance gives you the space for courage. You feel the fear but you are now able to muster enough strength to overcome your challenges. You realize that you have got vast potential. You discover who you are.

Help Others without Any Expectations
Helping others with random acts of kindness or even people who are close unconditionally can fill you up with love. It does not have to be a big act. You can start with something small such as making time to provide assistance, writing a note or taking out the rubbish chute.
When you perform the act of service without expectations, you are operating from the level of your heart. You give genuinely. You are not expecting a gift or anything in return. You open your heart to provide that service.
Love In Many Ways
Life's experiences offer you plenty of feedback. They come in the form of disappointments, challenges, hurts, traumas and separations and so on. You learn about acceptance, trust, compassion, and kindness. You learn about what it means to love unconditionally, layer-by-layer.
When your heart chakra is blocked, your ability to give and receive love is impacted. There are energetic ways that can help you remove the blockages. These ways include using reiki, crystals, yoga, heart chakra meditation, and past life healing.
Ultimately, you need to find love for yourself within yourself. You meet yourself at the very center of your spiritual heart. But first, you will need to open it, if it is closed.
The Theme is Love
This being the month of the Valentine, the theme on my blog is love. I will be sharing articles on the many aspects of love, from loving the self, loving others and loving life. I also share an inspired tip on a daily basis on my FB page: Abundance Tapestry. Do subscribe or join my page if you haven't already done so.
Read previous articles on Love, such as,
The Practice of Self-Compassion
101 Ways to Love Your Life
Self-Love Story: Lessons from the Heart
I am happy to announce that my book, Self-Love Secrets, is finally out on Amazon. If you like to have a printed copy, head on over here to make a purchase.
Abundance Always,


Author. Adventurer. Life Coach. More About Me.
Share Your Thoughts
What has worked for you with opening your heart?