Luminary Interview: Tess Marshall – The Bold Life
"We gain strength, and courage, and confidence by each experience in which we really stop to look fear in the face… we must do that which we think we cannot." – Eleanor Roosevelt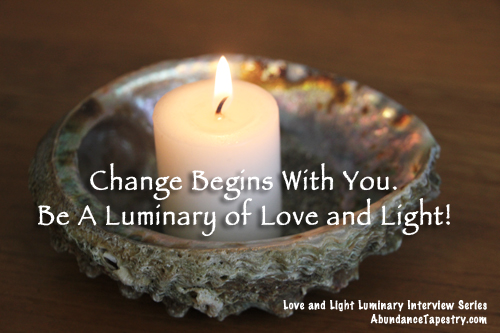 In today's post, I am featuring an interview with Tess Marshall from The Bold Life. She has a lot to teach us on fear and living boldly.

Q. Can you share what is your overall message about your site?
A. My overall message is that you don't have to live in fear. Unless we are in immediate danger, fear is an illusion or a story we tell ourselves. It's usually a story or a negative expectation of the future. It's just as easy to choose a positive expectation or to anticipate good things happening.
[My Comment: Since starting on my personal development journey, I have learned to stop running away but to address some of my worst fears. Oh yes, I have found out that fear is pretty much a story I tell myself. I am glad that overcoming fear has led me to experience tremendous freedom.]
Q. What challenges have you gone through that has now contributed to who you are today?
A. My biggest challenge thus far was getting married and pregnant when I was 17, a senior in high school. Our only plan was "love!" I was the mom to four little girls at age 22. My third pregnancy was twins. We really didn't have a plan until we began seeing a counselor 10 years later. That was a turning point. We finally had the tools needed to move forward in a healthy and happy manner. There is nothing more difficult than raising children. Nothing! I was only 38 when the twins graduated from high school. After we raised the girls we felt like we were on easy street. We still do!
[My Comment: I can certainly imagine how it must be like for you to be a young mother to four children. I agree, it is not easy raising children. There is so much to do and take care of on an everyday basis. Wait till you know how it is like to be raising children in Singapore. The environment can be very pressurizing. It's great that things have become much easier for you!]
Q. What led you to create your site, The Bold Life?
A. I started my blog to promote my writing and speaking. My family and friends always told me I needed to write my stories down to help others. My family and friends always told me I was the boldest person they knew. I saw myself as a person on a mission to do what I needed to do in life, without excuses. Fear can be used as an excuse to stay comfortable and in a comfort zone.
[My Comment: You are lucky to have friends and family point out your strengths for you. Good one with the mission!]
Q. To live boldly is to be able to overcome fear. Can you share more about overcoming fear?
A. I think the easiest way to overcome fear is to become aware of the present moment and breathe deeply. Breathing properly has a profound effect on us. I also think writing down our fears in a journal is powerful. You can't erase what you're unwilling to face. It's a process where fear loses its power and you gain a better perspective.
[My Comment: I certainly find journaling a very revealing process. It is also a good releasing method for me.]
Q. What do you think is the worst fear of all and how do you think we can overcome it?
4. The worst fear is one of feeling unloved and separate. All human beings have three things in common. We all want to give love, receive love, and know that we matter. We can overcome this fear by loving ourselves first. It's something we work on until the day we die.
[My Comment: I didn't realize that feeling unloved would be the worst fear. But now that you have pointed it out, I see it. I totally resonated with what you've just shared about loving ourselves first :-)]
Q. Let's delve more into overcoming fear through boldness. What do you think are the elements of boldness? How can I deal with fear?
A. A favorite quote on fear: I have accepted fear as a part of life – specifically the fear of change…. I have gone ahead despite the pounding in the heart that says: turn back. ~Erica Jong
It's exactly what we need to do!
[My Comment: Hey, I like that quote too! Thumbs up!]
Q. What keeps you inspired everyday?
A. My family, friends, and readers of my blog keep me inspired. I think it's an exciting time to be alive. We can all help co-create a new world. I think the old ways are crumbling because they don't work. Some would rather fight for the old ways because at least those are known. To move forward, in faith that the best is yet to come takes courage. That's what inspires me.
[My Comment: I certainly need to practice more faith myself. I am glad to have you as a friend for support.]
Q. One last question. I think that fear is very much part of what a lot of us go through everyday. Yet, fear can cripple us into not doing what is necessary for our growth. So my question is how can we incorporate more boldness into our daily lives?
A. My new course, "Take Your Fear and Shove It," is designed to provide you with what to do and how to do it, in order to be bold, play big and shine bright.
I raised my family, I saved my marriage, became a successful therapist, a coach, an author, a professional speaker, a writer…I achieved things I never would have thought possible.
This course is the culmination of everything I've learned. For those of you who want to know how I did it, this course is for you! Begin today, with one small step in the right direction, and the tools to make new choices that support you in transcending your dreams.
[My Comment: You have certainly hit it right with your new course. For those with challenges on addressing fear, do check the
Fearless Course
out!]
Love and Light Luminary Bio
Tess Marshall runs the site The Bold Life. She hopes to inspire her readers to follow their heart, unearth their bold, and create a meaning and love-filled life. She holds a Masters in Counseling Psychology but her real knowledge has come from experiencing life with her heart wide open.
Any Questions or Comments about Living Boldly?
If you have got any questions or thoughts about living boldly, please write them in the comment box below.
Shine from the Soul,



Author. Adventurer. Life Coach. More About Me.