Luminary Interview: The Radiant Mama
"A radiant personality invariably proves that there is an intense spiritual fire burning within." – Yajur Veda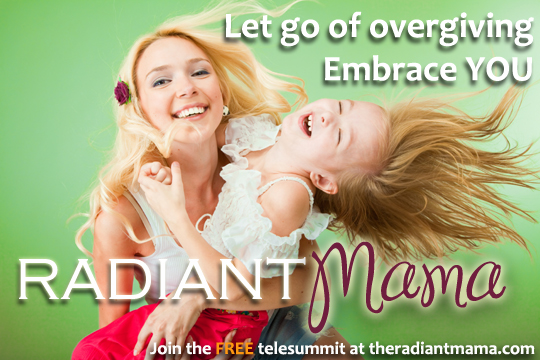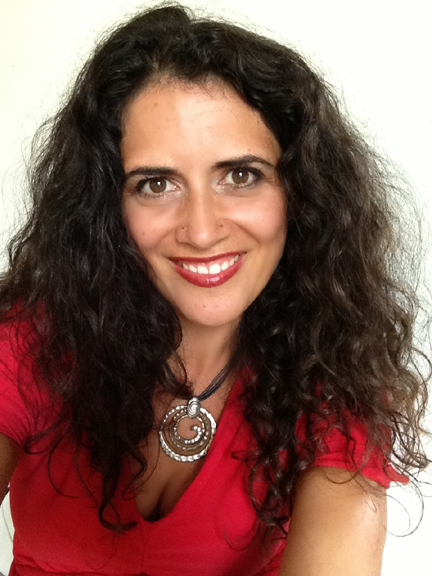 Connecting with Amber Kuileimailani Bonnicihas has provided me with the opportunity to discover that she is a Love and Light Luminary. Residing in Hawaii, Amber has the sunny Aloha spirit in her. She is someone with whom I had the privilege of getting to know recently. Amber had contacted me about participating as a speaker in The Radiant Mama Telesummit, which I readily said yes to.
Amber is an award winning artist, writer, dancer, healer and coach. She is founder of The Radiant Mama, an organization dedicated to helping mothers reconnect to their inner spark and discover their dreams. Her telesummit is a free resource for moms featuring global experts and leaders to help moms move from overwhelmed to radiant. She is a licensed Nia Black Belt, Certified Color of Woman Method Teacher, hula dancer, writer and coach. She currently lives on the Big Island of Hawaii with her husband and two boys.
I am honored to feature her here in my Love and Light Luminary Interview Series today. Read her answers to my questions….

Q: Can you share with me the inspiration behind The Radiant Mama?
Amber: A few years ago I was a walking mommy zombie. I had 2 boys under the age of 3, my husband was gone on business most of the time and we had just moved. I was exhausted, overwhelmed, and drained. I looked at the moms I'd meet and think they had it all together, happy with their kids and blissful. I felt isolated and alone. Besides that, I was in this continuous cycle of giving, giving, giving. Honestly if I didn't have my 3 year old asking for me to feed him, I'd probably have stayed in bed all day. One day I looked in the mirror and I didn't recognize myself. I saw a shell of me, and didn't know where I had gone.
Slowly, bit by bit, I shifted and started taking care of myself. I started asking for help and found support. I gave myself permission to take time just for me when my kids were napping… no laundry or chores, no to do list. I soul searched and discovered my passion and purpose, which is to help moms re-connect to their inner spark, discover their dreams and turn them into reality. I remember that dark time so well and I wanted to make it easier for moms now, wanted to help so they didn't have to hit bottom like I did. So I gathered experts from all over the world to help. How cool is that?
Q: If you had one piece of advice for moms, what would it be?
Amber: Take care of you. As moms it is so easy to take care of everyone else. We have our kids, our partners, our jobs, the home… we are so busy we don't notice that we start to move on auto pilot, that the things that stirred our soul have been buried under our to do list. This is huge and it comes down to valuing yourself, seeing that YOU are important. Ditching mommy guilt, choosing self-love. We are setting examples for our kids. Do you want them when they are older to give so much that they lose themselves taking care of others?
So do one thing…just for you. Paint your nails, sit under a tree, doodle, take a bath. Check in to see what 1 thing you can do and see how you can align it in your life. This isn't about taking a 7 day retreat all by yourself (wow, that'd be great), but about taking care of you with everyone else. Bringing you up the priority list… At least higher than the laundry basket.
Q. How can mothers find the time to listen in to The Radiant Mama Telesummit when they are already so busy with their schedules?

Amber: I get it. I am a mom myself so I made it super easy. When the calls are live, moms can listen to them on their computer, or call in and listen to the interviews on their phone. Afterwards moms can access them and listen anytime during the day… fitting it into their life instead of making time for it. Moms can listen while taking a walk, folding the laundry, driving the car or during soccer practice. This doesn't need to be one more thing on the to do list.
Q. Can you share more about the line-up of speakers that you have arranged for the telesummit?

Amber: I really wanted a variety of perspectives and ideas to help support moms make BIG change. I need support. I can say I want to change but unless I have support, I often don't.
This summit is like a 28 day support group, women cheering moms on. We have inspirational speakers, bestselling authors, coaches, mommy bloggers, radio talk show hosts and healers. Each woman has a different perspective, different tools, inspiration and wisdom that moms can put into practice now.
Q. What can mothers hope to learn by joining this telesummit?

Amber: Mothers will learn how to reconnect to their inner spark…ignite their passion and purpose to live a life they love. Many times moms are just trying to survive. This will help them do more than just survive, but help them step into their light. Our topics address areas from body, mind, emotions and spirit… everything from connecting to intuition to practical scheduling tips.

Q. What do you think are the qualities that make a Radiant Mama?
Amber: A Radiant Mama is one who
Knows her worth.
She listens within.
She shows her kids by example.
She nourishes herself.
She dances in possibility and dreams greater possibilities.
She knows she is perfect just as she is.
My Comments
Awesome! Her answers totally resonate with my messages on the importance of self-love and care. I love what she said about what makes "a radiant mama"!
I am delighted to be supporting Amber in her endeavor to help more mothers overcome their stress. I recall a time when I was feeling particularly overwhelmed myself when my children were born. Like Amber, my husband was constantly away on business trips and I felt rather alone.
Eventually, my stress hit a high when I also decided to start a business around the same period. By then, my self-esteem had crashed because I had quit my banking job and I experienced a loss in financial independence. Well, I am glad to report that I have made it through a very difficult period; I love the work that I do and am now enjoying an awesome lifestyle 🙂
So, for all mothers out there who are struggling with stress, receive the support that you need. Join Amber, myself and many other inspiring women who are currently enjoying a life of abundance and fulfillment in The Radiant Mama Telesummit. Register for the free telesummit by clicking over here!
Love and blessings,

Life Vision Coach. Author. Energy Healing Practitioner.
Your Comments Please
Are you a parent? Share your comments or story about stress related to raising children below.