My Vision Board Tops Amazon's Bestseller List?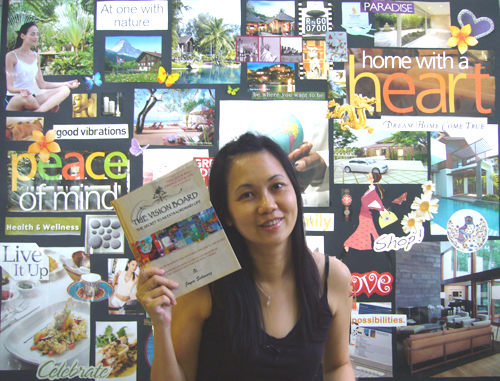 My Vision Board made it to the Amazon's Best Seller List?
Well….yes in a way!!
So here's the scoop: The above background picture of my Vision Board made it to The Vision Board: The Secret to an Extraordinary Life
, currently the #1 Spiritual best seller on Amazon since its launch on Oct 28!! Already, the book has been featured in The Chicago Sun Times, Foxbusiness News and on ABC TV.
More Buzz!! And in case you've been living under a rock for the past one week, there has been a buzz surrounding Vision Boards. Oprah Winfrey revealed that she created one, with the intention that Obama not only become president but that she would go to the inaugural ball wearing the dress she pictured on her Board.
My Unclear Intent Came True
Sometime in mid March, a lady known as Joyce Schwarz contacted me about a post I had written. She said that she enjoyed my spin on Cinderella's Rags to Riches Story and asked if I was interested in submitting a picture for her upcoming Vision Board Book
. I had no idea who she was back then.
During that period, I had been toying with the idea of publishing a book myself. I dreamed of having a book that would be on the bestseller list. However, as I had no idea what I wanted to write about, I did not make a clear Intent. Little did I know that just by having some fuzzy idea about a book and being on the bestseller list was able to bring about a manifestation. So, instead of bringing into physical reality my own book, the picture of my dreams in a Vision Board got featured in someone else's best selling book.
My Vision Board Dreams
My Vision Board featured wordings such as happiness, a home with a heart, peace of mind, nature, great ideas on tap, a million possibilities, good vibrations and living it up. I would say that a lot of my wishes are coming true for me.
It didn't quite seem possible when I first made this Vision Board. I had no idea that in the months following, I would experience energy shifts, delve into spirituality to the extent that I am doing now, and seldom with a worry over "nothing to write" for my blog. Creative ideas have been flowing in easily. At one stage, I have so many options that I realize that the intent should rightly be about having the opportunity that best aligns to my highest path and purpose, and not about having many but misaligned choices.
Why You Should Buy The Book
Creating mental images build inroads into your subconscious. It is something that you can do to help you in the art of manifestation.
If you want to find out more about Vision Boards, then yeah…you guess it right…learn the secrets from the Vision Board Book
! Joyce Schwarz is an author, a producer, and a Hollywood and VIP coach and dealmaker. The book contains more than 100 color pictures of vision boards, affirmations and endorsements from celebrities, coaches, artists and gurus featured in The Secret Movie such as Marie Diamond, Bob Doyle, Jack Canfield and Bob Proctor.
A Floodgate of Testimonials
Here are some….
At last a book with a vision! The Vision Board by Joyce Schwarz is so compelling in both message and imagery it deserves NOT a spot on your bookshelf or coffee table, heck… bring the hook and wire, I'm hanging this book on my wall! — Dan Hollings, Internet & Mobile Marketing Strategist, Internet Strategist behind the Movie Version of "The Secret"
I know Joyce Schwarz is a visionary because she empowers the superstars, reaches down to the teens and helps everyone in between to grab it, bag it and tag it. The difference between a super achiever and a daydreamer is the transmission to manifest. The real "secret" is in the pages of The Vision Board book and the shooting star behind all the stars is Joyce. A must read. — BJ Dohrmann, Best Selling Author of Super Achiever Mind Sets and Adviser to Tony Robbins, Jack Canfield, T. Harv Eker, Lisa Nichols and Mark Hansen
If living the good life is an art–and I believe that it is–Joyce Schwarz has painted a map of how we all can transform our lives into masterpieces. — Pablo Solomon, Artist and Sculptor
Joyce Schwarz, in her book The Vision Board: Unlock the Secret to An Extraordinary Life, is to be praised for her tremendous contribution to the unfolding of cosmic awareness that beckons us all. Her concept of the vision board allows us to focus our energies on what we desire from the universe, and to maintain the necessary passionate and vigorous attention it so deserves. Our thoughts and feelings can return time and again to the physical representation of our spiritual desires and aspirations. It can and will become the source of tremendous support and focus during our personal metaphysical journey. — Steven E. Hodes, M.D, Author of Meta-Physician on Call for Better Health
Set Clear Future Intents
Getting a lot of my wishes in my vision board manifested is a huge turn-on for me! Why the few that have not physically come true was probably because I was not sure about what I wanted.
Also, I believe that some intents take a longer time to bear fruit than others. It is not that they are not going to happen but that a few more pieces of the puzzle need to be in place. Hey…it's like you ordered pizza with unclear instructions and got a late delivery because the cook needed time to figure out what you really wanted!!
Well, I am definitely going to work on setting my intentions clear from now on!!
Your Thoughts Please
What are your thoughts about Vision Boards? Have you had good success with using them? If not, my suggestion is to get the Vision Board Book
to unravel the Secrets to Successful Manifestation!!