Why Vision Boards Fail? Avoid 7 Common Mistakes That Others Make!
"My vision board is the window to my dream life coming true." – Life Vision Mastery
Charlie has watched "The Secret" movie and countless episodes of the Oprah show. He was inspired by the examples of those who have created vision boards and who have successfully manifested their dreams. And so he spent an entire weekend, painstakingly cutting and pasting pictures from magazines onto a board.

(Image Credit: Min, my daughter, drew the character of the confused guy "Charlie".)
Charlie managed to find images for them all: the dream car, the beautiful house by the beach, the lovely designer bags, the holiday in The Caribbean and a gorgeous looking person (who looks some famous Hollywood star) as a partner. After two hours or so, he completed his board. Charlie felt happy that he have done his part.

And so Charlie sat back to wait.
And he waited….and waited…and waited.
Days passed….months passed…..none of dreams materialized!
Charlie started to get impatient, anxious and eventually……
"Darn," he cried out in frustration, "my vision board has failed to work!"
"Maybe all this stuff about the Law of Attraction is a load of bullshit," he exclaimed.
Charlie's dreams, once alive, now relegated to the dungeons.
His vision board lie in the trashcan or some long forgotten corner of his storeroom.
Has it Been the Same for You?
Does the above scenario sound familiar to you?
Have you been tearing your hair out in frustration?
What happened to the vision board that you have created and where is it right now?
Has your vision board failed miserably to help you with manifesting the outcome that you want?
What Is Really The Case?
Luckily, Charlie decides to seek for some help.
He calls up the dial-a-life-coach hotline.
Charlie (wailing in pain): I need to get my life sorted out but I cannot seem to get my vision board to work! Is the Law of Attraction real? Why is it not working for me?
Life Coach: Please calm down. I am here to help. Let us take a step back for some perspective: Can it really be there is no such law or that you have not applied the principles correctly?
Well, if you allow yourself to think clearly instead of being frustrated, you would remember what you already know about the law of attraction. The law of attraction is a law. It is a universal law which works all the time! It is no different from the laws of gravity or electricity.
Consider this example: If the light bulb does not come on after you flick its switch, what would you normally do? You would go change the light bulb or find out what has gone wrong. At the same time, you do not conclude that the laws to help generate electricity do not exist.
Charlie: Hey, that is a great example. What you have said is making a lot of sense. Tell me more, please?
Life Coach: Vision board is simply a tool. It is used to help you envision with greater clarity. However, if you have been manifesting more frustrating situations or outcomes that you do not want, then it is likely that you've not been applying or doing something right.
Charlie: What can I do to find out my mistake or oversight?
Life Coach: Go over to the article on the website Abundance Tapestry and first of all, find out which of the 7 common mistakes that you can be making regarding your vision board.
Charlie (feeling relieved): Great!
Life Coach: And……while you are there, check out the owner's Life Vision Mastery Program which is about to be launched soon.
Charlie (brightening up): Thank you, I will do just that!!
7 Reasons Why Vision Boards Fail To Work
1. Too many pictures. A common tendency is to place as many pictures as possible into one single board. You want them all (I have seen this happening with a few of my workshop attendees who have found it hard to select and decide.)! The board can end up becoming too cluttered.
A vision board is a tool for the visioning process. Focused attention is needed. If there are too many pictures, it is hard to focus.
2. Not clear about what you want. When you are not clear about what you want, you send our conflicting signals. If the picture on your board is not what you want, you won't be able to find the resonance within yourself. Since law of attraction is about "like attracting like", confusion attracts more confusion.
3. Keeping the vision board in some obscure place. After its completion, where did you place your vision board? In the drawer? Under your desk? Behind the toilet door?
A vision board is best placed somewhere that is highly visible to you. You are, after all, hoping to create an imprint of the vision in your mind. You need to be able to see your vision board often. Hence, refrain from hiding it in an obscure corner.
If you are a student of energy or quantum mechanics, consider the elements of Feng Shui too. Thus, avoid put your vision board in the restroom where the toilet is. Unless you are thinking of flushing down your dreams, it is about one of the worst places that you can put up your board.
4. Lack of association. Are you seeing yourself in the vision board? Or are you viewing your dream from the point of an observer?
When visioning, you need to see yourself in the dream of having all the things you want. Having a photograph or a self portrait on the same board can help build association. The more you can associate yourself the picture on your vision board, the greater your ability to bring it forward.
5. Having internal issues. Can the real reason be because of your self doubt, worry, or your inability to be open to receiving abundance? Can it be that you are sabotaging your own chances of success?
Take a look at the beliefs you are holding. If you have low self-esteem, you are likely to believe that you are not deserving. You cannot imagine yourself as worthy of receiving any gifts or miracles. You will need to address the beliefs that are holding you back from manifesting success and abundance.
6. No action on your part. So you have been expecting your dreams to manifest without doing anything, aye? That is not going to happen. To activate your board, you need to follow up with inspired aligned actions (Check out the Life Vision Mastery Program for more explanations!)
7. Not sharing your vision. You fear ridicule and so you have been keeping things a secret. This may be a wise move especially if your own family and friends are generally not supportive. You don't want to have your dreams killed by naysayers.
However, if your dream is a big one and impacts the world at large, you may want to garner the support of people who could be aligned. This group of people do not necessarily have to be working on the same dream. Wha4's more important is that they are able to lend energetic support to your vision. They may be just be the ones who have the ability to send you the resources that you need for your vision to come true.
How to Create a More Effective Vision Board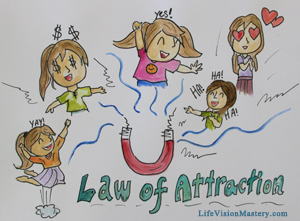 You may be thinking, "so how can I create a more effective or powerful vision board"?
(Picture left: Another drawing made by Min.)
Well, in addition to the above 7 tips, there is a lot more that you can do. Very importantly, it is about how to put all the elements together – from the study of quantum mechanics, to using Law of Attraction, to understanding mind programming, harnessing of our inner creative power and entrusting our vision ultimately to the divine. You can find all the details in the Life Vision Board Mastery Program.

Free Gifts
If you have not downloaded your free gifts (an Abundance Vision Guided Visualization MP3 and a Report on Creating Vision Boards), please register here right away!
To your visioning success,



Author. Adventurer. Life Coach. More About Me.
Share Your Vision Board Tips
Got a tip on vision boards that has worked for you? Or feel inspired to create one properly now? Share it in the comment box below.