Let me show you How to Tap Into Abundance….

SUBSCRIBE TO MY 3-PART
"TAP TO TRANSFORM" VIDEO SERIES

Get Your Starter Guide to Making
a Money & Abundance Breakthrough

Master The Heart Of Manifesting Abundance

SUBSCRIBE TO MY ABUNDANCE NEWSLETTER & learn the following…
* How to Have a Money Breakthrough
* How to Love Yourself & Transform Your Relationships
* How to find Greater Freedom, Fulfilment and Fun in Your Life!


Transform Your Life

Align with Abundance
By Transforming Your Relationship
with Everything – Including Wealth,
Family, Spouse and All Else.
Most of All, Transform the Relationship
You Have with Yourself. 
---
---
---
Private coaching client, Laura who's from Australia, could not attract clients for 6 months. She sent me this phone text in two weeks right after we did a VIP day together…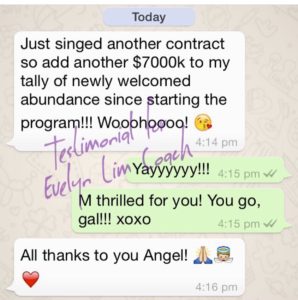 ---
"I just want to say that Evelyn has been an amazing huge help in my life.

When I first came to her, I had so many issues around money, around deserving…deserving the job I love and having the career I love.

But, with Evelyn's help, I cleared so many of my limiting beliefs and trauma that I cannot even describe how much I have cleared. These very deep-seated issues that I thought they would never go away had just magically gone away.

And definitely, EFT with Evelyn is different than I have done with other people; like in a good way. It was so effective for me.

Evelyn is wise. She opened my eyes with her words of wisdom to things that I never thought of or to explore things in new angles that I haven't really thought of before.

These insights have really been invaluable for me. They have really helped me with a lot of issues.

And so it is not just the EFT that is valuable but the insights that she gave me.

And finally some of the results I have with her…. I used to think I don't deserve nice things but now I do.

I am much more open to abundance, in the form of money and love than before.

I have learned to ask for my needs to be met, with some clearing of the throat chakra which is really important and valuable for me. I especially have a lot of issues in the throat chakra and Evelyn has helped me clear them.

Also, seeing myself as equal to men is another really big result I had. I couldn't have done it without Evelyn's help

Thank you, Evelyn. I highly recommend anyone who wants to have their trauma and issues cleared and to step into greater abundance to work with Evelyn."
---
Evelyn was able to help unearth the deeper issues that were truly bothering me. It was enlightening! I experienced a shift and felt great after working together. Evelyn was professional and caring, and she was able to provide a few practical suggestions to help me integrate the effects of the healing in my life. I am on the way to showing up more powerfully in the world.

I love working with Evelyn because I received lots of new insights into healing my past, even on events that I have already been doing lots of healing work on. The changes were rapid but also subtle that I didn't realize the improvement in what I was focusing on till Evelyn pointed that out to me. I highly recommend Evelyn's healing cum coaching services if you are feeling stuck and need more in-depth insights and healing in your path.
---
"Evelyn has done a wonderful job using EFT and Matrix Reimprinting to help me dig deep within myself to get rid of my limiting beliefs and issues from my past. These issues have been holding me back from performing my best in life. Her non-judgemental and helpful nature makes me trust her immensely and thus we were able to get to the root of my issues swiftly and resolve them effectively. I recommend Evelyn for anyone who feels held back by past issues and wish to move forward in their lives.
---
"Hi! I have consulted Evelyn for her Abundance Coaching.

My experience with Evelyn is one of the best. Prior to Evelyn, I went to a self-proclaimed coach in Singapore whom i paid a hefty $3000 for 6 private sessions. The sessions turned out to be chit chat sessions. I ended up feeling bewildered, demoralised and confused, with no breakthroughs made. It was a waste of my time, energy and money. After the disastrous encounter, i raised my standards on the kind of coach i want to attract for my self-development.

Evelyn stood out as one who is highly confident, dependable, approachable, down-to-earth and humble. Whenever i have doubts, she would suggest a practical solution for me. Evelyn is truly a powerful abundance manifestor and most importantly, she walks the talk. That's why when i think of abundance i actually think of her. It's that powerful.

The workbook she gave me as a client is such a gem. She made so much effort to prepare it. It's the kind where i would often read about it when i am in doubt. She has this light energy about her that makes you comfy in a session. I am no surprise she is likely the best in Singapore to go for Abundance coaching!

Evelyn is highly intuitive. She has been able to tune into my subconscious for answers on the blocks that have been holding me back. There are many aspects that resonates with me and i now have a better idea of my life path.

It's worth your investment and wellbeing to look for Evelyn 🙂
---
"Working with Evelyn has created a real shift in my awareness. As much as one can read about the Law of Attraction, it is all too easy to forget its guiding principles and find oneself thinking about what one hasn't got. Through my session with Evelyn I really woke up to some of the negative chatter I have going round in my head. I realised that I have numerous blessings – financial and otherwise – to be grateful for. I will remember these each time I think 'I cannot afford this…'

In addition to this, I am deeply moved by the time and energy Evelyn gave to our call. I felt she was completely in tune with my thinking and knew exactly the right key phrases to use in our tapping rounds. I will continue to work with it in my own tapping. It made me realise what unresolved issues I have and need to work on. I feel now I have greater clarity about my vision for a successful career. I know what small steps to take to move closer to making it a reality.

Finally, I am struck with how practical Evelyn is as well as deeply spiritual. Our conversations have lifted me, made me feel buoyant and gave me laughter. She is a highly gifted woman."
---
"I went from feeling desperate, anxious and miserable to manifesting an ideal job with a 33% pay jump just within 2 weeks of working with Evelyn. I am feeling more confident and aware about my potential than ever before."
---
"Evelyn is a good listener and is also compassionate. She has a strong understanding of money myths and is very quick to analyse the root cause of my issues. I am grateful and thankful for her support and guidance"
---
"An indication of whether something works and resonates with you, is how you feel about it. I am delighted to report that I felt light, refreshed, vindicated and awesome after our session yesterday."
---
"I was actually looking at it today and smiling at the notes I made along the margin. Thank God that difficult part of my life is over and life is good again."

"Thanks Evelyn! You are my baby step to my quest for peace and happiness. I just want to thank you for the inspiration, guidance and knowledge you have given me in the past year or so. You kept my wheels turning, tha'ts for sure! Thanks for being in my life at just the right time. More power to you!"