Download Your FREE Abundance Check for New Moon Manifestation
The start of a New Moon creates an excellent 24-hour window opportunity to set intentions. New moon energy has an inviting-in kind of energy that you can leverage on.
Hence, within the 24-hour window, consider writing an abundance check / cheque for pinning on your vision board or simply put one in your wallet.
New moon occurs every month. And you don't have to wait that long to experience the next New Moon. It is happening on this coming Sunday on July 23, 2017.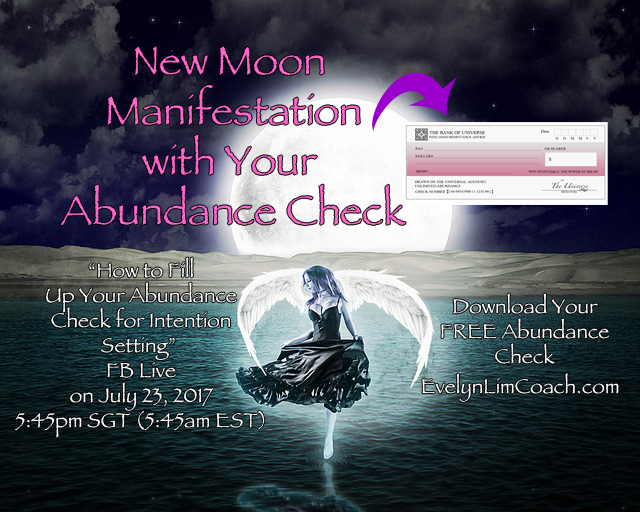 Get inspired by Jim Carrey who wrote $10 million on a cheque to himself and kept it in his wallet. He eventually manifested the exact amount of $10m million for acting in the movie Dumb and Dumber.
Recently, I updated my Abundance Check with a new check number that signifies it being blessed by the Universe, Ascended Masters and Angels for powerful intention setting. Also, while green is a natural choice for money checks, I kept mine to pink for the cradling of our heart's desires 🙂
Note that your abundance check / cheque need not be a monetary amount. It can be anything. Love. Relationships. Great Health. Rain for Mother Earth. Anything.
Here's a sample download….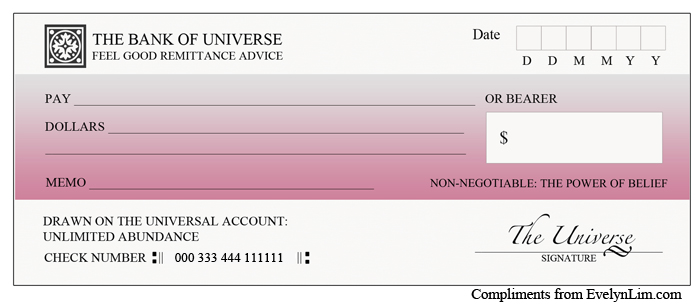 How to Fill Up Your Abundance Check for Intention Setting
As an ex-banker, I know all about remittances and ensuring that the check gets properly deposited into our account 🙂
Would like to find out how to fill up abundance checks more effectively?
Join me on my Facebook group at the following time slot….
July 23, 2017 at 5:45pm SGT (July 23 at 5:45am EST) when the New Moon begins
Type in the city that you are located to find out what time New Moon falls for you…
https://www.timeanddate.com/moon/phases/
I'd be on Live Video covering instructions on how to fill up your Abundance Check.
Where? Facebook Group Link http://www.EvelynLimCoach.com
Get Your FREE Multiple Abundance Checks in one convenient download when you join the FB Group!
See you,