Spiritual Quiz: Do a Quick Soul Reading Here
Play the following Spiritual Quiz that reveals what your core soul essence is….
After writing the content for the Spiritual Quiz, I needed to test the entire clip to make sure that the slides run smoothly. Funnily enough, after testing it, I got the same answer twice ha…see below image…ha!
It's great to receive the affirmation that I have been drawing on creative, playful and mystical energies (the "Unicorn") when making fun quizzes!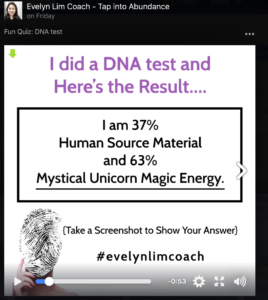 It's your turn. Play the Spiritual Quiz and post your answer below.
This Spiritual Quiz can be rather intriguing. I've got more than one positive feedback on it 🙂 Note: Even if you played it a few times, please only post the first answer below.
Love and abundance always,

P.S. Would like to confirm your findings from the Spiritual Quiz? Are you a human in a spiritual experience or a spiritual being in a human experience?  Click over to get an Akashic Record Reading!