How to Love: 7 Quotes by Thich Nhat Hanh
How to love is a small but beautiful book by Zen Buddhist Master, Thich Nhat Hanh. It is the third title in the Mindfulness Essentials Series of how-to books. As always, he writes in simple language to explain profound insights from the practice of Buddhism, mindfulness and meditation.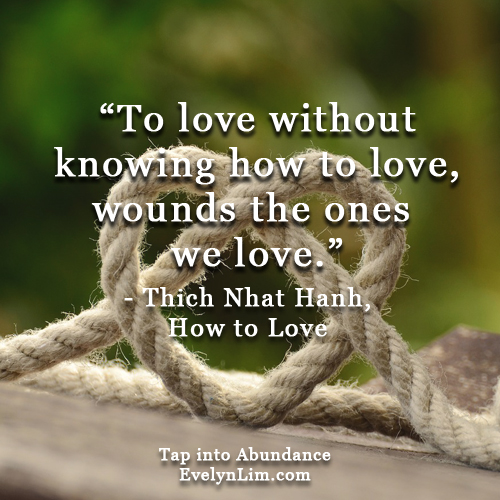 I like that we are taught not just on the importance of self-love, but also how we can love another more fully. The teachings are poignant and persuasive: "to love without knowing how to love, wounds the ones we love." We are invited to open our hearts in a meditative way.
How to Love is in 4 essentials: you can only love another when you feel true love for yourself; love is understanding; understanding brings compassion; and deep listening and loving speech are key ways of showing your love.
I had felt drawn to reading How to Love as learning to love is the fundamental of all relationships. Whether it is the relationship we have with ourselves, with our partners, success or even money, it rests on love. If we want to find greater meaning or improve on the quality of our living, learning How to Love is essential.
Here are 7 quotes in How to Love by Thich Nhat Hanh….
"Every one of us is trying to find our true home. Some of us are still searching. Our true home is inside, but it's also in our loved ones around us. When you're in a loving relationship, you and the other person can be a true home for each other."
"Understanding someone's suffering is the best gift you can give another person. Understanding is love's other name. If you don't understand, you can't love."
"The essence of loving kindness is being able to offer happiness. You can be the sunshine for another person. You can't offer happiness until you have it for yourself. So build a home inside by accepting yourself and learning to love and heal yourself."
"In a deep relationship, there's no longer a boundary between you and the other person. You are her and she is you. Your suffering is her suffering. Your understanding of your own suffering helps your loved one to suffer less."
"You are part of the universe; you are made of stars. When you look at your loved one, you see that he is also made of stars and carries eternity inside. Looking in this way, we naturally feel reverence. True love cannot be without trust and respect for oneself and for the other person."
"To love without knowing how to love wounds the person we love. To know how to love someone, we have to understand them. To understand, we need to listen."
"Love is a living, breathing thing. There is no need to force it to grow in a particular direction. If we start by being easy and gentle with ourselves, we will find it is just there inside of us, solid and healing."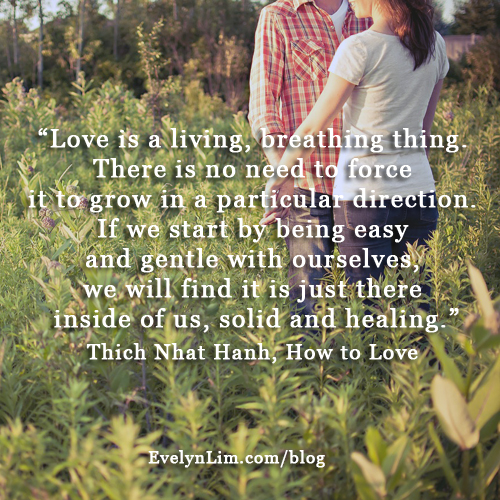 How to Love: Go on a Journey
How to love has turned out to be quite a journey for me.
I learned it with self-love, from writing a book on Self-Love, creating a self-love healing meditation program, improving my relationship with my husband and children, making the choice to do what I love and loving what I do and also, transforming the relationship I have with money.
My lessons have been in many forms and ways and I am still learning How to Love more every single day. The moment I woke up to true love was the moment I began to know who I am.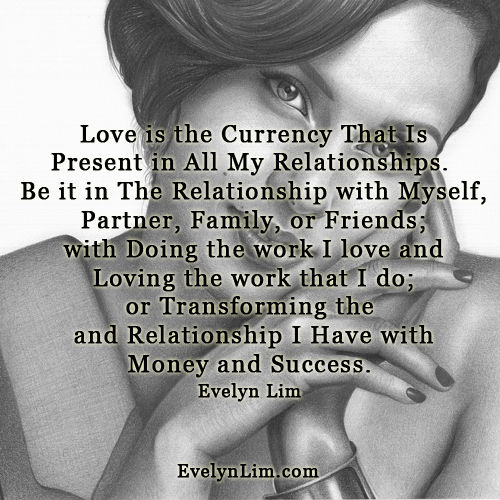 This post is sent with love from my heart to yours.
Love always,


P.S. Recommended Resources:
1. How to Love by Thich Nhat Hanh
2. Self-Love Secrets
P.S.S. Share Your Thoughts and Comments on How to Love below.